The Christian & Missionary Alliance
Campbellsport Alliance Church is part of the Christian & Missionary Alliance, a fellowship of churches world-wide who are committed to preaching the Gospel of Jesus Christ. Today there are over 2,000 C&MA church in the USA, as well as a large number of C&MA churches in 75 countries around the world. The C&MA also has 4 Bible colleges and one seminary that train young men and women for the Lord's service. The mission of the C&MA is to know Jesus Christ; exalt Him as Savior, Sanctifier, Healer, and Coming King; and complete His Great Commission.
The C&MA Logo
The cross symbolizes salvation that
is provided only through the death
and resurrection of Jesus Christ.
The laver symbolizes the sanctifying grace of
God which provides daily cleansing from sin
through the power of the indwelling Holy Spirit.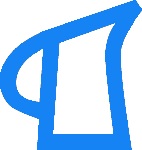 The pitcher speaks of oil, a symbol of
the power of the Holy Spirit and the
provision of anointing for healing.
The crown symbolizes the return
of Jesus Christ as King of kings
and Lord of lords.
The globe symbolizes the international
focus of the C&MA in seeking to complete
the Great Commission of Christ.
Core Values
Our mission central objectives are critical to all we are and do.
Lost people matter to God. He wants them found. Luke 19:10
Prayer is the primary work of the people of God. Philippians 4:6-7
Everything we have belongs to God. We are His stewards. 1 Chronicles 29:14
Knowing and obeying God's Word is fundamental to all true success. Joshua 1:8
Completing the Great Commission will require the mobilization of every fully devoted disciple. Matthew 28:19
Without the empowerment of the Holy Spirit, we can accomplish nothing. 1 Corinthians 2:4-5
Achieving God's purposes means taking faith-filled risks. This always involves change. Hebrews 11:6